Visit KKC on Facebook
News from KKC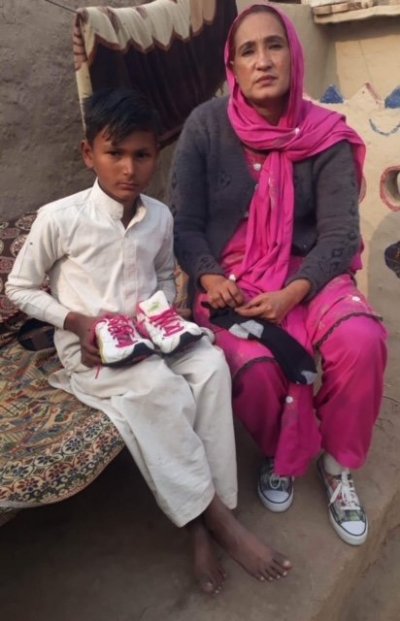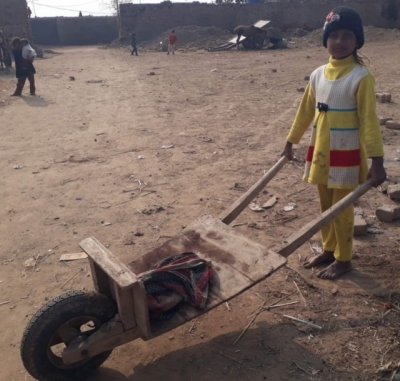 Many barefoot child laborers get their small feet cold during the winter in Pakistan. In January 2023 about 40 bricklaying children, working at brickstone Kilns in Manga Mandi Multan and Kot Rahda Kishan Kasor (both in the Lahore region) were provided with shoes. This was possible due to the hard-working Mr and Mrs Riaz, who travels many hours every week on their bike, to give these children education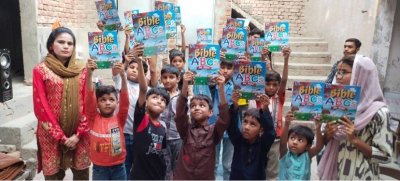 Mrs Saman from KKC (to the left) facilitated initiation of Christian Sunday school for 25 kids living in Faisalabad, Pakistan. The teacher Ms Meerab (to the right) received, in September 2022, literature (Bible ABC for kids), a carpet and a white board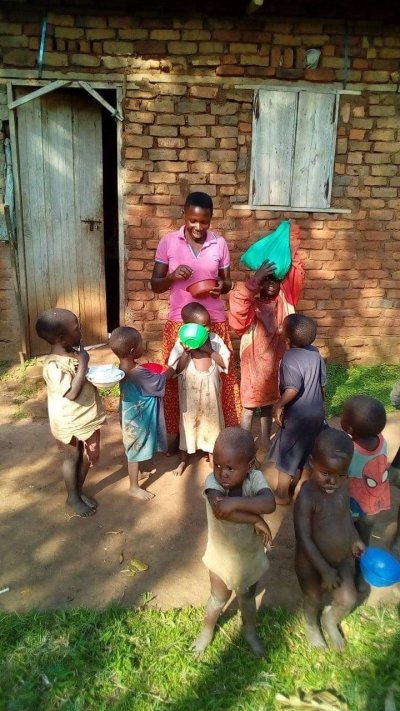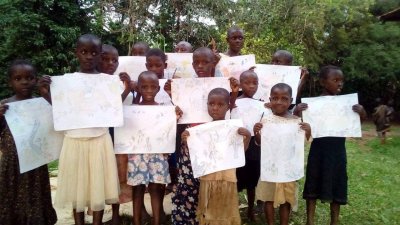 A KKC painting contest was arranged in February 2022 for orphan kids living in Bunyama, in the Iganga district, Uganda, by Mrs Tikaula Ketty and her husband Pastor Erisa Mwesigwa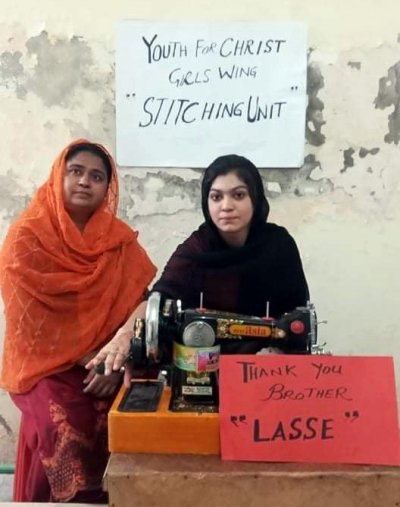 The stitching unit, as a part of the "Youth for Christ girls wing" ministry, founded by Mr. Javed Murad Sahotra in Faisalabad, Pakistan, started up the stitching education in September 2021. This was possible due to a donation from Brother Lasse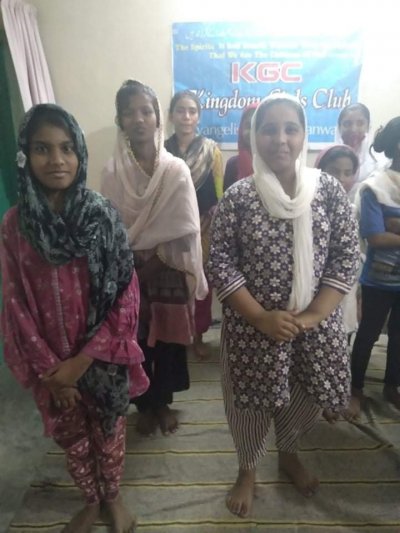 Evangelist Ms Kanwal started up Kingdom Girls Club (KGC) for teenage girls in Khanewal, Pakistan, September 2021. In their first meetings the girls cooked chicken biryani and potato pratha together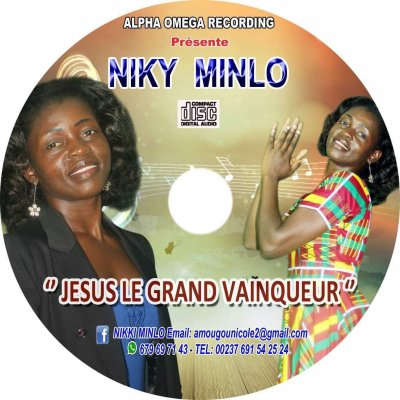 The french singing KKC-Nikki, from Cameroon, recently recorded the song "Jesus le grand vainqueur". Click on the image and listen to her song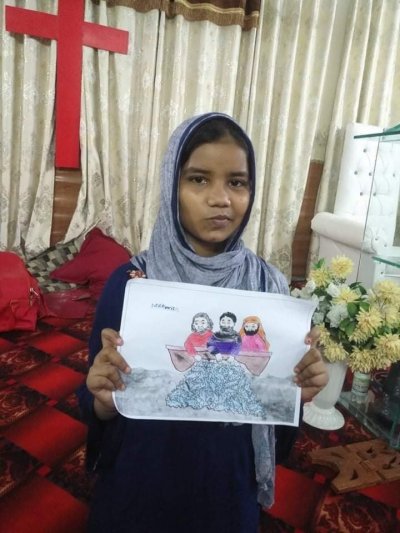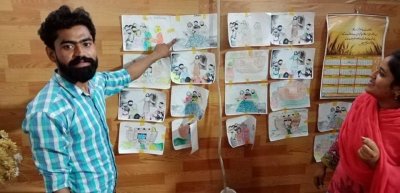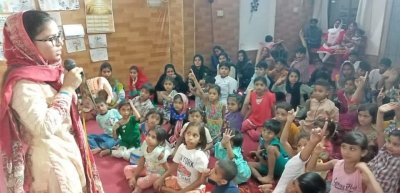 Another KKC painting contest was arranged in Lahore, July 2021, by Pastor Joseph and Sister William. The contest was followed by a public KKC painting exhibition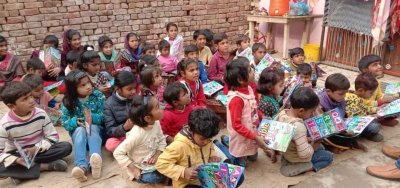 Pastor Ashraf Patras distributed Christian literatur, in December 2020, to 50 orphan kids living in Khushpurr, Pakistan. The children received the book "Jesus & Kids" or "Bible ABCs for kids". This was possible due to a donation from Sister Lena from Sweden
(Click on the image to see how Pastor Ashram teach the kids)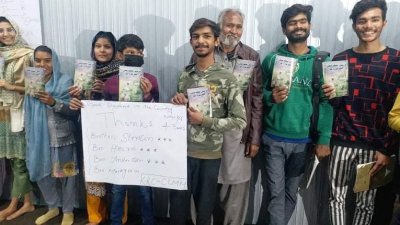 "The good Shepherd in the country Nearby" was distributed in Sweden during 2020, and then translated to Urdu and distributed in Pakistan during 2021. KKC facilitated the publication of the book, as was printed at CLMM in Pakistan. For more information visit KKC literature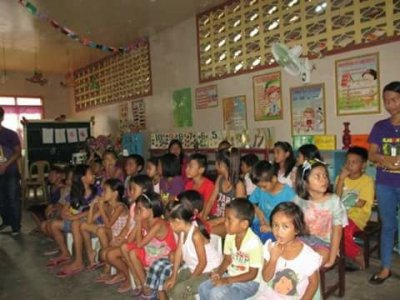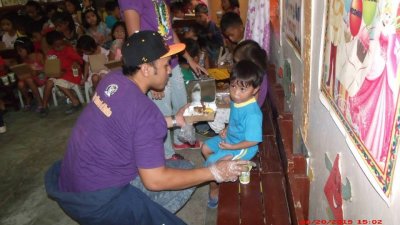 Kingdom Kids Club (KKC) was initiated for 6 years ago, June 2015. About 35 poor street children met up in a school building in Iligan City, Mindanao, Philippines. They were provided with yummy food (fried chicken and rice) and they got lots of hugs. They sang songs and played funny games.
The big KKC party was arranged by the child evangelist Nenisa Gaid from "City Church of Praise", and the master chef Ms Elizabeth Alo cooked the food. 
Five years later, june 2020, thousands of poor children, but also poor adults, have been touched by God through KKC´s arrangements around the world.
Click on this link and see some photos from the pioneer children and the pioneer leaders who designed KKC and the subsequent five years of KKC activities.
Would you like to see KKC to be continued? Please, contact KKC and give your point of views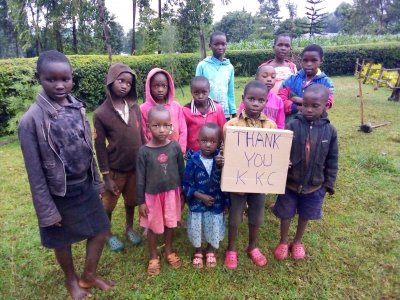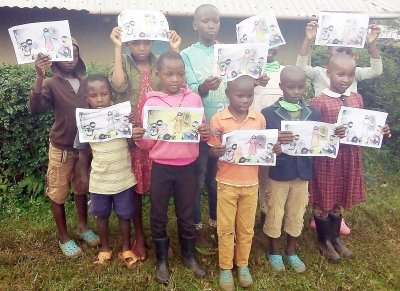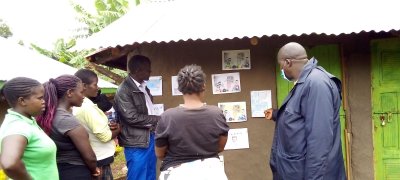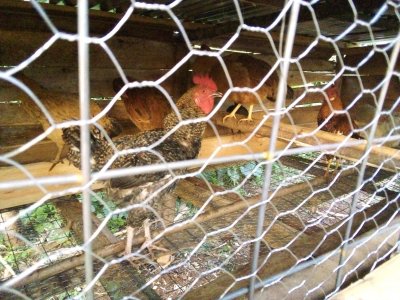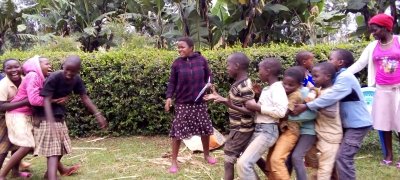 In April 2020, KKC initiated a collaboration with Pastor Schmke Okemwa Aboki who is taking care of ten orphan kids living in Kisii, Kenya. The kids immediately participated in the world-wide KKC painting contest followed by an exhibition in June 2020.
An attempt to give these kids a sustainable support a small hens house was built, to produce chickens and eggs. 
Sunday schools arrangements were initiated in August 2020 by the teacher Ms Diana Nyaboke
Follow what happens in KKC Kisii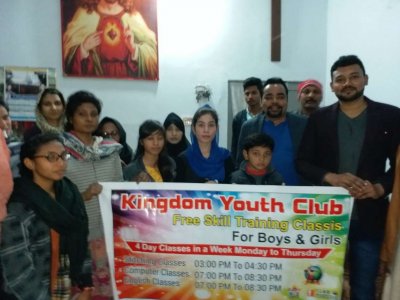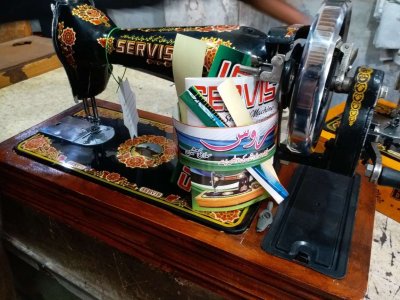 Kingdom Youth Club (KYC) was initiated January 2020 in Faisalabad, Pakistan. KYC will be a part of "Christ Mission Skill Training Center".
In KYC poor female youth will get free training in stitching, in order to find jobs and became self-supportive. The training will be combined with bible studies and prayer meetings. Youth with all kind of religious backgrounds are welcome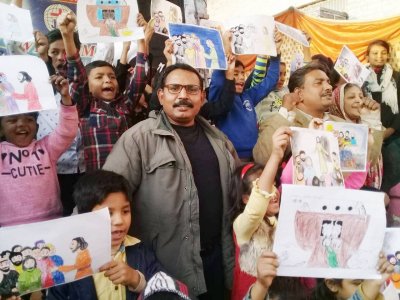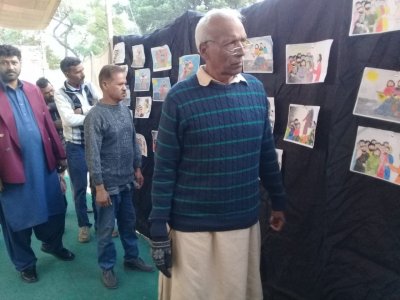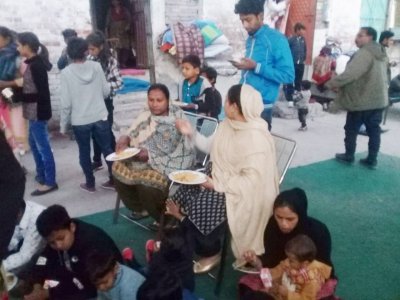 The Team Leader for KKC Lahore in Pakistan, Pastor Joseph Hameed, invited many visitors from the neighborhood to a KKC painting exhibition in December 2019. The exhibition was held in the "Jesus Ministries Church" where about 35 Sunday school children showed their paintings of biblical motives. All visitors received a yummy biryani dish to eat.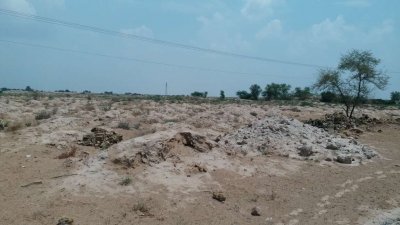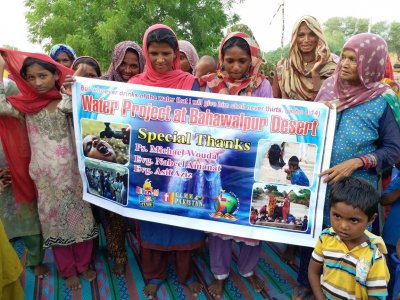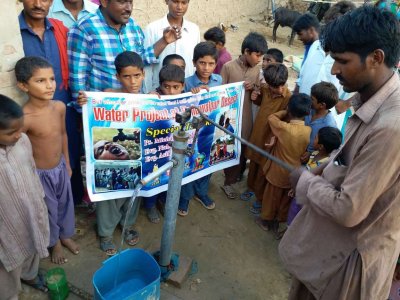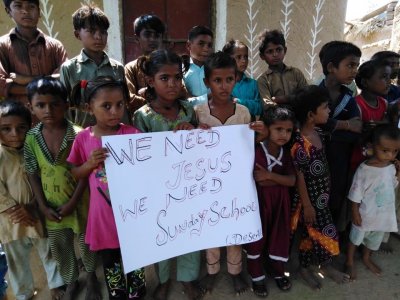 KKC, in collaboration with CLMM, FCM and Mr/Mrs Aziz, initiated the "Water Project" , in August 2019, for the people living in the Cholistan desert close to Bahawalpur, Pakistan. The Hinduism believing Gypsie people living there often got diseases related to dirty drinking water, collected far away. Therefore, we gave them clear drinking water, found by drilling to a deep of 105 feet. The water is delivered by a handpump located right into the village.
In addition, the Hindu people was provided with spiritual water so they never will get thirsty again (John 4:14). The Jesus movie was shown, and Christian Sunday schools for kids and prayer meetings for adults, in two different desert tribes, were established.
As can be seen on the photos, all children have been provided with "Bible ABCs for kids" and school materials (notebooks, pencils and a white board)
In order to get funding for the children´s school expenses set up of a poultry for selling eggs and chickens is ongoing according the successful model in West Papua in Indonesia
In January 2020 the children participated in the world-wide KKC painting contest, and arranged an exhibition for the adults living in one of the villages
The "Water Project" was ended up with a great baptizm festival March 23, 2020
Mikael W from KKC did a visit to India in March-April 2019, where he was invited to the "Andh Maha Vidayalaya", a Muslim school located in Old Delhi, for a meeting with the blind children and the school administration. Mikael prayed there for blessings and healing
Then, Mikael showed the Jesus movie for people living in the slum cluster JJ Colony in New Delhi. The movie was also shown for about 40 sexually abused girls in the age 6 to 16 years old. These girls had been rescued from the sex industry, and 6 months after the visit a couple of the girls will get baptized (contact Mikael for supporting future rescuing)
In addition, cartoon movies (biblical stories presented by Theo) were shown at five different "kindergardens" in JJ Colony, for children in the age of 3 to 7 years old. The overall 150 kids were provided with cold drinks as it was +39C. These movie shows were possible due to collaboration between KKC and principal Mukesh Kumar (bottom photo) and pastor Michael Selva. The KKC visit was ended up by playing games with a couple of JJ Colony kids.
Cick on the photos above and watch the JJ Colony kids playing games and study the ABC book. Click here to read more from Mikaels Delhi travel book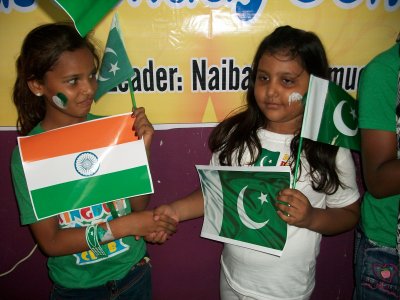 Have adults something to learn from children?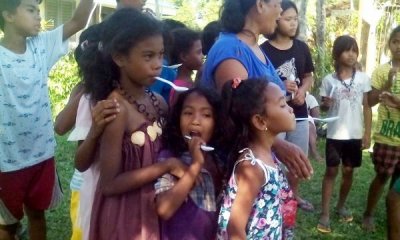 Kids in Serum enjoyed a Christmas party, December 16, 2018. The kids belong to the poor Ati tribe, an indigenous people living in Guimaras island, Philippines. KKC Christian Sunday school will be arranged for these kids during 2019, a collaboration between KKC and the missionaries Mr. Jorgen and Mrs Florence Milton from "Barmhärtighetsmissionen"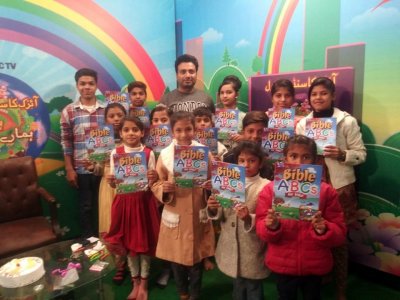 Mr. Anil Shail host of Isaac TV, the first Christian satellite-TV in Pakistan broadcasting in large parts of the world, distributed the Bible ABCs for kids in his TV Sunday school program, in November 2018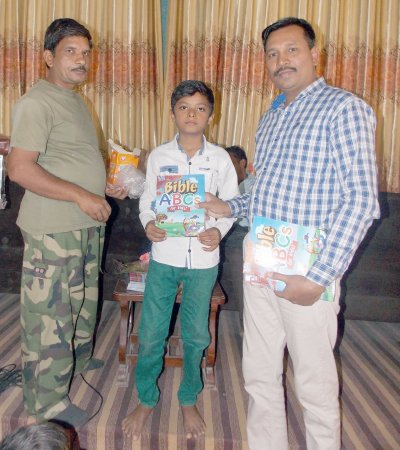 Evangelist Mr. Javed Alam, the founder and chairman of "Children Care Ministries Pakistan (CCGMP)", executed distribution ceremonies of the "Bible ABCs for kids" to hundreds of kids living in and around Lahore, Pakistan.
The distribution ceremonies were held during October/November, 2018, for kids in the "Church of God Ministries Pakistan", as can be seen in the video clips part 1 and part 2, followed by the "Holy Family Church Ministry" (part 3), "New Apostolic Church" (part 4), and "Salvation Army Church" (part 5 and part 6)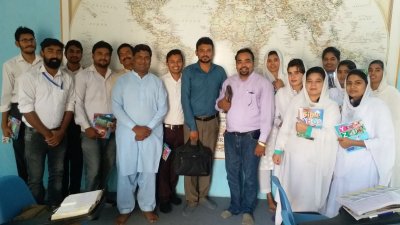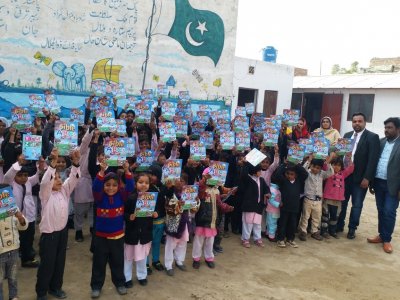 Evangelist Nabeel Amanat and Pastor Imran from "Foundation in Christ ministries (FCM) Faisalabad in Pakistan, did a visit in October 2018 to Faith Gospel Assemblies in Khanewal (upper photo), where they preached about "mercy and real repentance". They also gave a seminar for the bible students on the topic "Importance of children and how to train them on right way". Nabeel and Imran met many kids there and distributed the "Bible ABCs for kids" 
In addition, in January 2019 they went to Bahawalpur to give the same seminar, in a Methodist church, and for handing over 150 books to Sunday school teacher Mr. Asif Aziz and his kids (the bottom photo).
Both of the visits were facilitated by KKC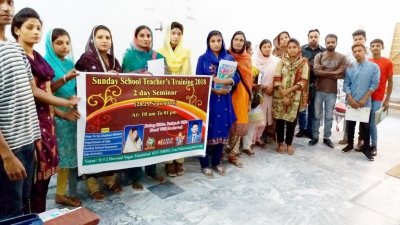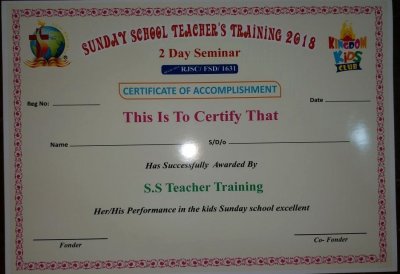 Education of Sunday school teachers were performed September 2018 in Faisalabab, Pakistan. The seminar covered various children ministry problems and highlighted the importance in inspiring children to attend Christian Sunday school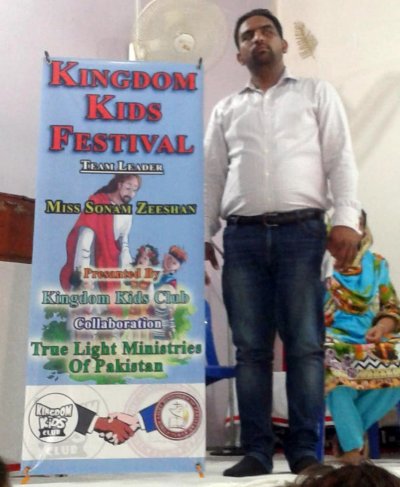 KKC Karachi, in collaboration with "True Light Ministry", arranged a movie festival September 20, 2018. About 200 kids from all over Karachi in Pakistan, originating from five different Sunday school groups, were picked up by busses and then joined for watching a Christian movie. The kids also ate yummy food, sang together, and got trained in faith, hope and love. 
Another Christian Sunday school group, KKC Pigcawayan, located in Mindanao, Philippines, was initiated in September 2018, and consists of about 15 kids. The kids are trained in what way to go (Proverbs 22:6) by the KKC team leader Ms. Marlyn Fordan, and the Sunday school teacher Mr. Jerry Santillan. A collaboration between KKC and Pastora Amy Arceo´s "Praise and Worship church". Click on the photos and see the kids play games and sing 
Many people in Pakistan wish to get baptized, as demonstrated by Pastor Peter John in Khanewhal (upper photo), and by the KKC team leader Mr. Zeeshan Javed Gil from KKC Karachi and the "True Light Ministry". Cick on the photo and listen to a testimony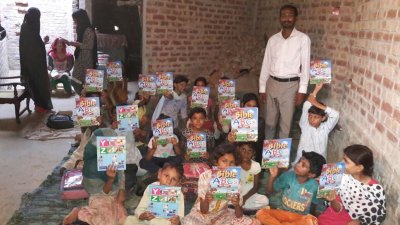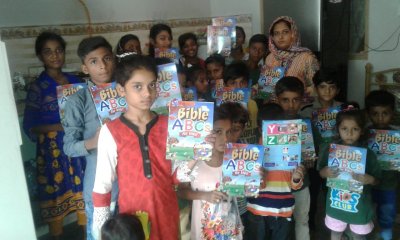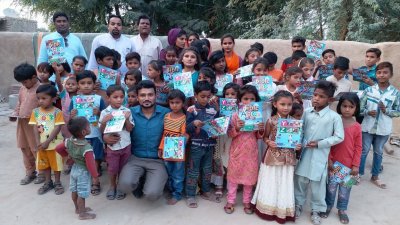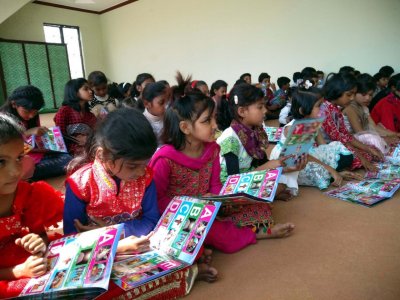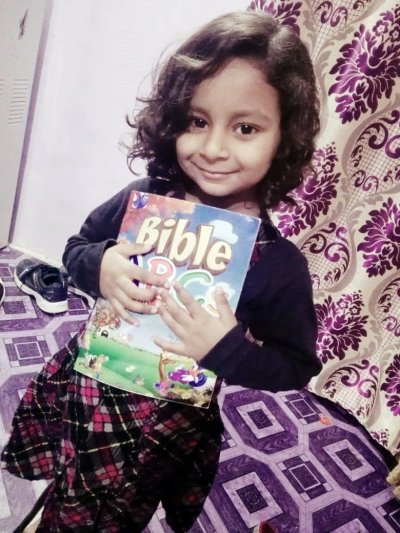 Distribution of "Bible ABCs for kids" to children around the world was initiated in October 2018, and is still ongoing. Thousands of poor kids in Pakistan, Philippines, India and Kenya have received this little book.
Ditribution of Christian literature is a collaboration between KKC, CLMM and various Christian congregations and evangelists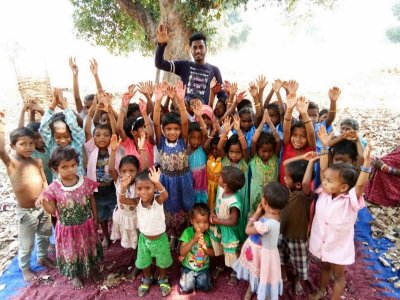 Greetings from the KKC Punjapai kids, living in the beautiful mountain village located in Odisha state, India. The Christian Sunday school teacher, Mr. Manasha Chandraguru, was training the kids, April 2018, in what way to go (Proverbs 22:6). A collaboration with "Care for kids ministry"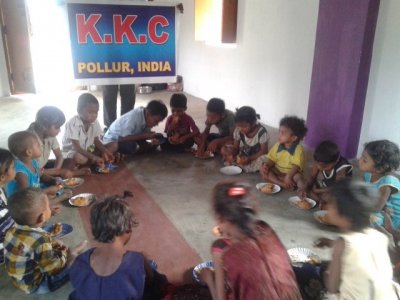 KKC Pollur, a Christian Sunday school group, was initiated in India, February 2018. Unfortunately, the people living in this village was not ready and couldn´t accept KKC´s harmless activities. The school was therefore sadly shot down just a couple of weeks after initiation. Sometimes it is important to give the neighborhood relevant information prior to initiation of Christian activities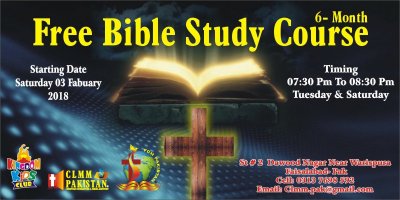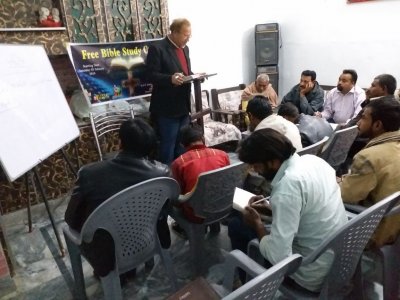 A 6-months free bible course (later extended to 1 year) was arranged in Faisalabad, Pakistan, by FCM and CLMM, with minor support from KKC 
Please, contact KKC if you would like to contribute to such bible courses as a teacher (in English and by Skype online) or as a sponsor
After the kids in KKC Karachi, Pakistan, attend a Christmas party in December 2017, they enjoyed a picnic in January 2018, where they ate yummy food and ice-cream, and watched animals at zoo. The picnic was sponsored by Brother Leif Boman from Sweden. Cick on the photo and listen when the kids sing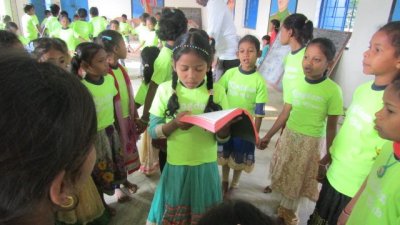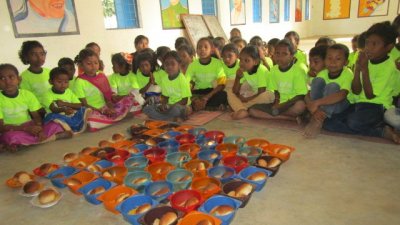 KKC Labanyagada Christian Sunday school, in Odisha state, India, was started up July 2017 in for about 50 poor kids (mainly girls). The KKC team leaders Pastor Diptiman Lima with his wife Mrs Sreedevee "Bujji" Kakita manage the school together with the teacher Ms. Prabhasini Sabra. A collaboration with Life Changing Ministry LCM (LCM)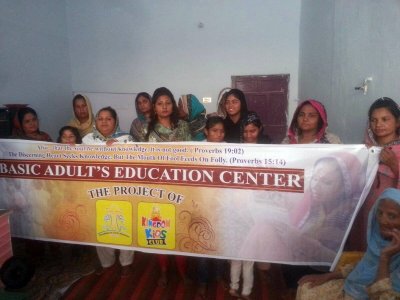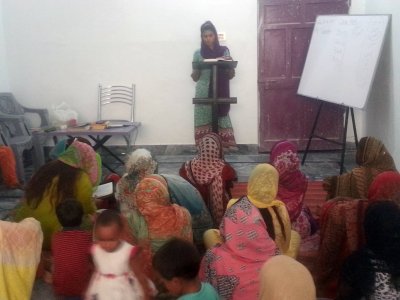 Thanks to collected money from employees at Swedish Orphan Biovitrum (Sobi), a drug development company possessing the highest educated scientists in the world, it was possible for KKC and Foundation of Christ Ministries (FCM) to start "Adult´s Education Center" where illiterate Christian and Muslim women in Faisalabad, Pakistan, together are provided with free reading/writing education in Urdu and English, just prior to the womens prayer meeting, where bibles use to be distributed for reading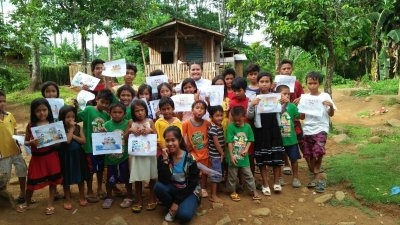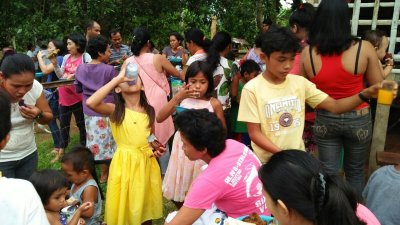 KKC Tangub mountains, Philippines, arranged a painting exhibition party, in May 2017. Many adults showed up, watched the paintings and ate yummy food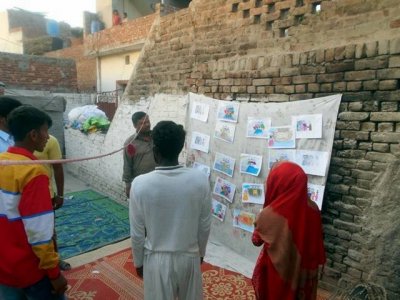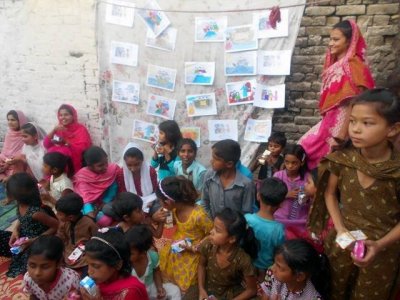 About 12 adults showed up on KKC´s world-wide painting exhibition arranged by KKC Kasur, Pakistan, in May 2017. The adults were happy to see all the painting contributions and all participants got juice to drink and yummy cookies to eat. The kids sang psalm 136.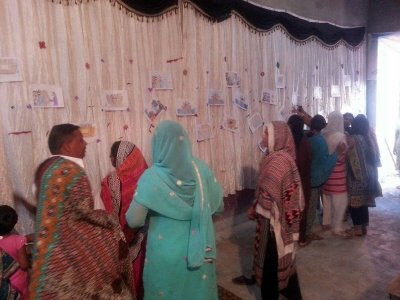 More than 400 people showed up when KKC Faisalabad, Pakistan, arranged the painting exhibition on the Palm Sunday, April 2017. The visitors got the opportunity to admire the kids paintings, attached on a wall, as well as eating the yummy dish biryani. The kids also entertained the adults with song and theater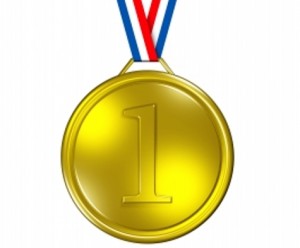 KKC Karachi, Pakistan, was the winner of the world-wide KKC painting contest 2017. 
See some of the painting contributions from various participating KKC Sunday schools, and all of the painting exhibitions. The prize that all participans received was to arrange painting exhibitions for adults with lots of yummy food and kid-entertainments. The contest was noticed by the Christian TV channel Himlen TV7, where Kerstin was one of the sponsors. Other sponsors were the house renovation company Renovering62, and the energy saving company Ekonomi Spararna.
The painting templates used, with biblical motives, were created by the painting artist Mila Lehtonen from Finland.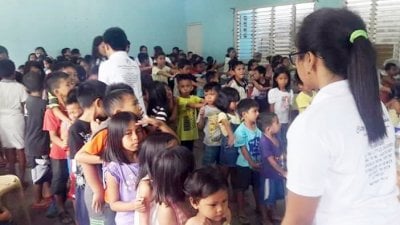 KKC Iligan City arranged Christian Sunday school in Upper Tominobo, Mindanao, Philippines, in March 2017. The KKC team, dressed in white t-shirts and escorted by the army of Philippines, experienced huge problems when they tried to perform the activities, as about 300 kids came and it was very crowded, said the KKC team leader Mr. Noriel Manigque Ansing. A collaboration with City Church of Praise (CCOP).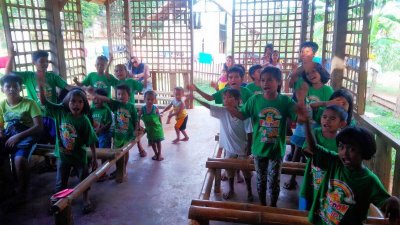 Kingdom Kids Club´s Christian Sunday school, March 2017, in the Tangub mountains, Mindanao, Philippines. Cick on the photo and listen when the kids sing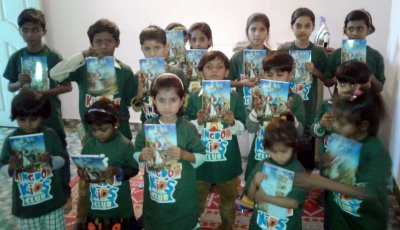 The kids in KKC Karachi, Pakistan, submitted their painting contributions, in February 2017, to the KKC world-wide painting contest. They also received KKC t-shirts and kid-bibles written in Urdu, from the Team Leader Mrs Sonam. A collaboration with "True Light Ministry". Cick on the photo and listen to a prayer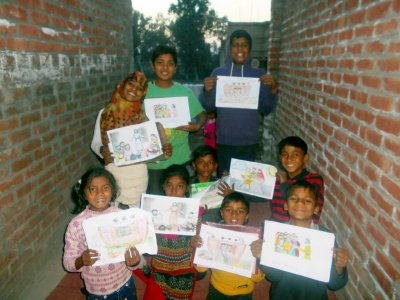 KKC Gujranwala in Pakistan sent in their painting contributions, in February 2017, to the KKC world-wide painting contest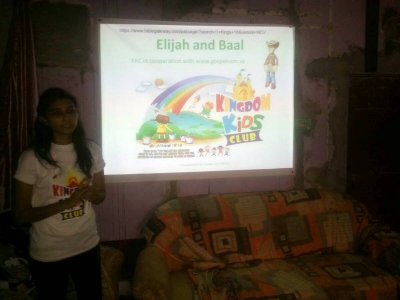 Christian Sunday school provided by KKC Faisalabad in Pakistan. A projector was purchased, and bible stories received from Gospel Sam in Sweden was shown by the team leader Ms. Naiba Emmanuel, January 2018. The same projector is also used by "Foundation in Christ Ministries, FCM" to show Christian movies for poor people in rural areas and in the street. 
KKC Iligan City, Mindanao in the Philippines, provided both kids and adults with Christian Sunday school, in June 2016. A collaboration with City Church of Praise (CCOP). Cick on the photo and listen when the kids sing
Many visitors enjoyed the dance entertinment performed by the KKC Faisalabad kids on the "Christmas Prayer Festival", December 22, 2016.  "Foundation in Christ ministries (FCM) arranged the festival. Click on the photos and watch the cool Christmas dance
KKC thanks Aspnäskyrkan in Sweden for let us setting up a prayer request on the church´s advertisement board. A Christian KKC Sunday school was then started up in Punjapai mountain village in Odisha state, India, October 2016. In Punjapai the people have never before heard about Jesus. They instead use to pray to stones and trees. The mountain kids thanks this lovely Swedish church with a new song (click on the photo and listen when the kids sing)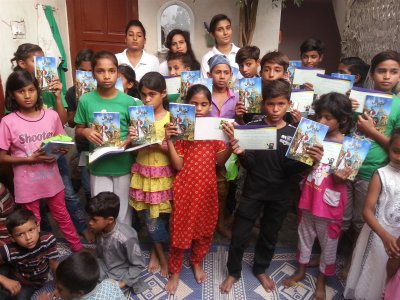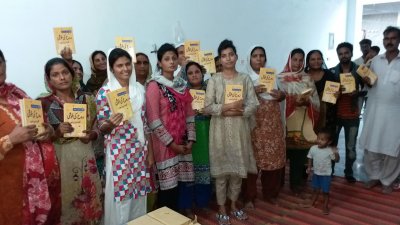 Kids in KKC Faisalabad received kid-bibles in October 2016, and women from the KKC supported women prayer meeting (WPM) received bibles and song books, written in Urdu, in September 2017, arranged by the Evangelist Mrs. Shabana Shah Jahan from "Foundation in Christ ministries (FCM)". The songbooks were donated by Brother Leif Boman from Sweden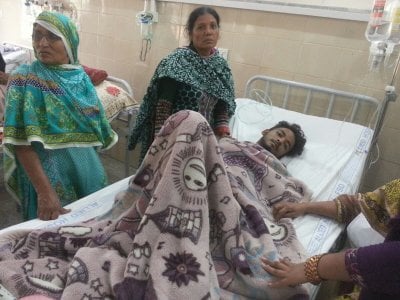 A Pakistani boy was healed by Jesus Christ from acute leukemi in October 2016. The KKC sponsored Women Prayer Team prayed the whole night long. KKC thanks Jesus Christ, as always listen to our prayers, for the miracle. (The boy is still healthy, about 3 1/2 years after the healing)
The kids in KKC Faisalabad, in Pakistan, managed by the KKC Team Leader Ms. Naiba Emmanuel, went by hired busses 90 km to the Gatwala Park for a picnic, in June 2016. In August 2016 the kids celebrated the independency day. A collaboration with "Foundation in Christ ministries (FCM)". Click on the photos and listen when the kids sing
Christian KKC Sunday school in Paralakhemundi (Odisha state in India) was started up in July 2016. A collaboration with Pastor Tejoban Lima and his "Kids for care ministry". The kids later (November 2016) enjoyed a picnic at Gandahati on the childrens day. Click on the photos and listen when the kids sing
The KKC kids from Kibera, in Nairobi, Kenya, went for picnic to the Uhuru Park in March 2016. This was possible due to collaboration with Cheery Children Education Center and World Fellowship Catherdral  Click on the photos and listen when the kids sing
A Certifcate of Appreciation was given to the KKC Iligan city leaders (in white t-shirts) after executing activities for both pupils and parents in Mainit elementary school, in February 2016. The KKC leaders were, as usual, escorted by the military forces of the Philippines, who prayed together with the kids. A collaboration with City Church of Praise (CCOP).Click on the photos and listen when the kids sing
A girl that belongs to KKC Gujranwala in Pakistan was one of the prize winners when the kids played some funny games in June 2016. All kids are winners every Sunday in Kingdom Kids Club. The Evangelist and KKC team leader, Mr. Hanook Khan, showed the kids how to play the hand game. Click on the photo and listen when the kids sing
The team leader of KKC Tangub mountains in the Philippines, Ms Abigail Bustamante, together with her kids when they received bibles, July 2016, from an anonymous donor. Collaboration partly with private persons, and partly with the Labuyo Assembly of GOD  Church Click on the photos and listen when the kids sing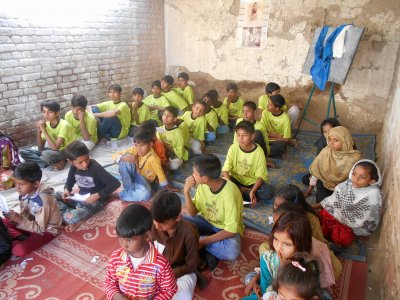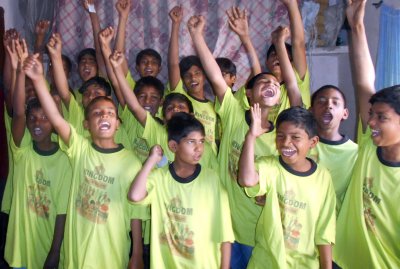 KKC Christian Sunday school in Kasur Pakistan. Distribution of t-shirts to some of the kids, March 2016. A collaboration with the Evangelist and KKC team leader, Mr. Hanook Khan, and his Christian private school
apg29, apg29, apg29, apg29, apg29, apg29, apg29
Make your own free website